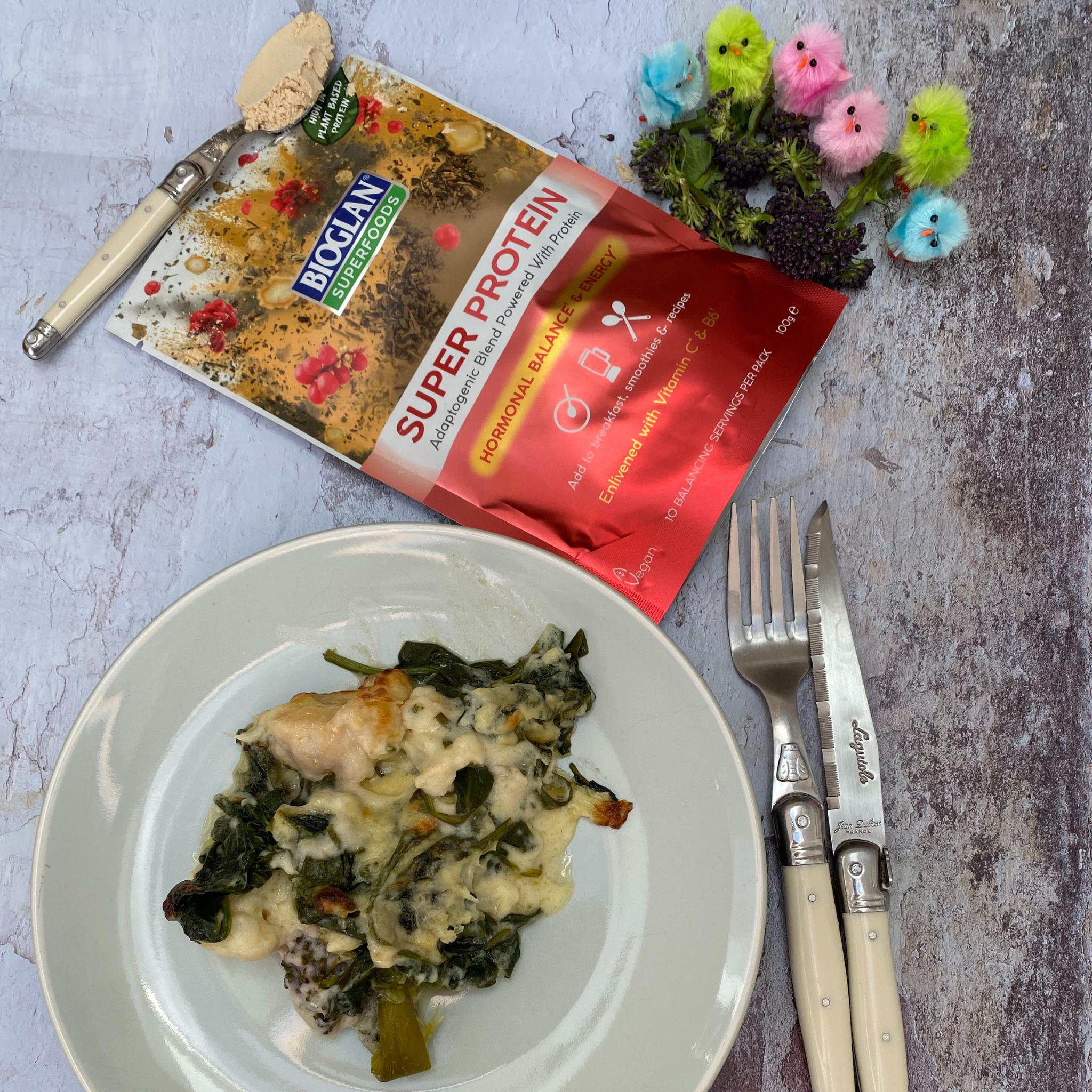 Cheesy Vegetable Gratin with Super Protein

6-8

One hour
If you're looking for a veggie main for Easter Sunday, try our Cheesy Vegetable Gratin with Super Protein. Not only does it work as a standalone main meal, it's also a great side to any roast.
Ingredients
Buy ingredients online at your selected retailer
1 cauliflower (450g), broken into florets, leaves reserved
200g purple sprouting broccoli
200g spinach
70g unsalted butter
70g plain flour
900ml whole milk
2 tsp English mustard
1 tsp Bioglan Superfoods Super Protein
150g mature cheddar
½ bunch of chives, finely chopped
Method
1. Place two metal steamers over a medium saucepan filled with 1 inch of water. Bring to a boil. Add the cauliflower to the bottom steamer and cook for 5-10 minutes. Add the broccoli to the top steamer and cook for 3-6 minutes. Drain and leave to steam-dry.
2. While the cauliflower and broccoli are drying Steam the spinach for about 3 minutes, or until just wilted. Then tip into a sieve and press the excess moisture out of it with the back of a wooden spoon. Set aside.
3. Heat the oven to 220C/200C fan/gas 7. Melt the butter in a saucepan over a low heat until foaming, then stir in the flour to create a thick paste. Cook for 2 mins, remove the pan from the heat and whisk in the milk in several additions until lump-free. Return to the heat and whisk until thickened. Whisk in the mustard, Bioglan Superfoods Super Protein and most of the cheese and the chives. Season to taste.
4. Arrange the vegetables, including the cauliflower leaves, in a medium ovenproof dish. Pour over the sauce, then sprinkle with the remaining cheese. Bake for 25-30 mins or until golden and bubbling.