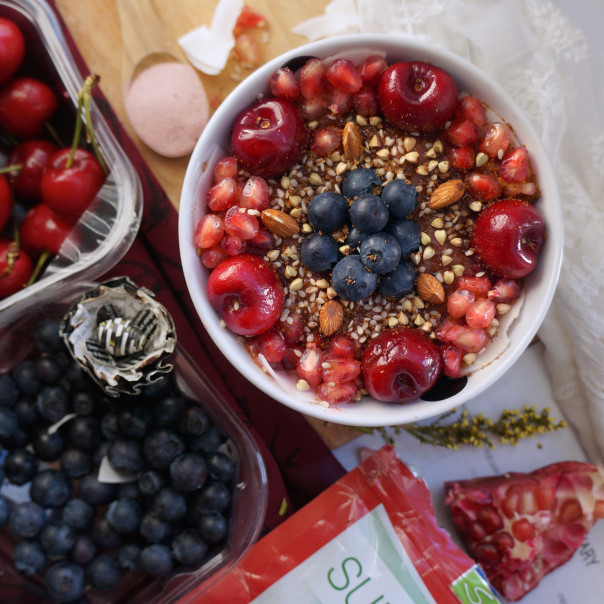 Berry Oats
Recipe by Big City Dreamer

Serves 1

5 minutes
Adding Bioglan Superfoods Superberries to your oats can give it a fresh berry flavour as well as giving it a nutritious boost.
Ingredients
Buy ingredients online at your selected retailer
1/3 cup oats
1 cup water or preferred milk
1 small ripe banana
2 tsp Bioglan Superfoods Superberries
Toppings: a selection of cherries, pomegranate seeds, blueberries, almonds, buckwheat, and Bioglan Superfoods Flax + Chia
Preferred sweetener (maple syrup, coconut sugar, honey, agave etc)
Method
Add the oats, water/ milk and banana to a saucepan*. Bring to the boil then stir continuously for 1 minute until the banana is mashed in and the oats are cooked. Stir in the Bioglan Superberries powder and serve. Top with desired toppings and your choice of sweetener, if desired.
*Alternatively, cook in a microwave – add the oats, water/milk and banana to a bowl and cook on a medium/ high heat for 2 minutes. Stir with a fork and cook for a further 1-2 minutes. Stir in the berry powder.