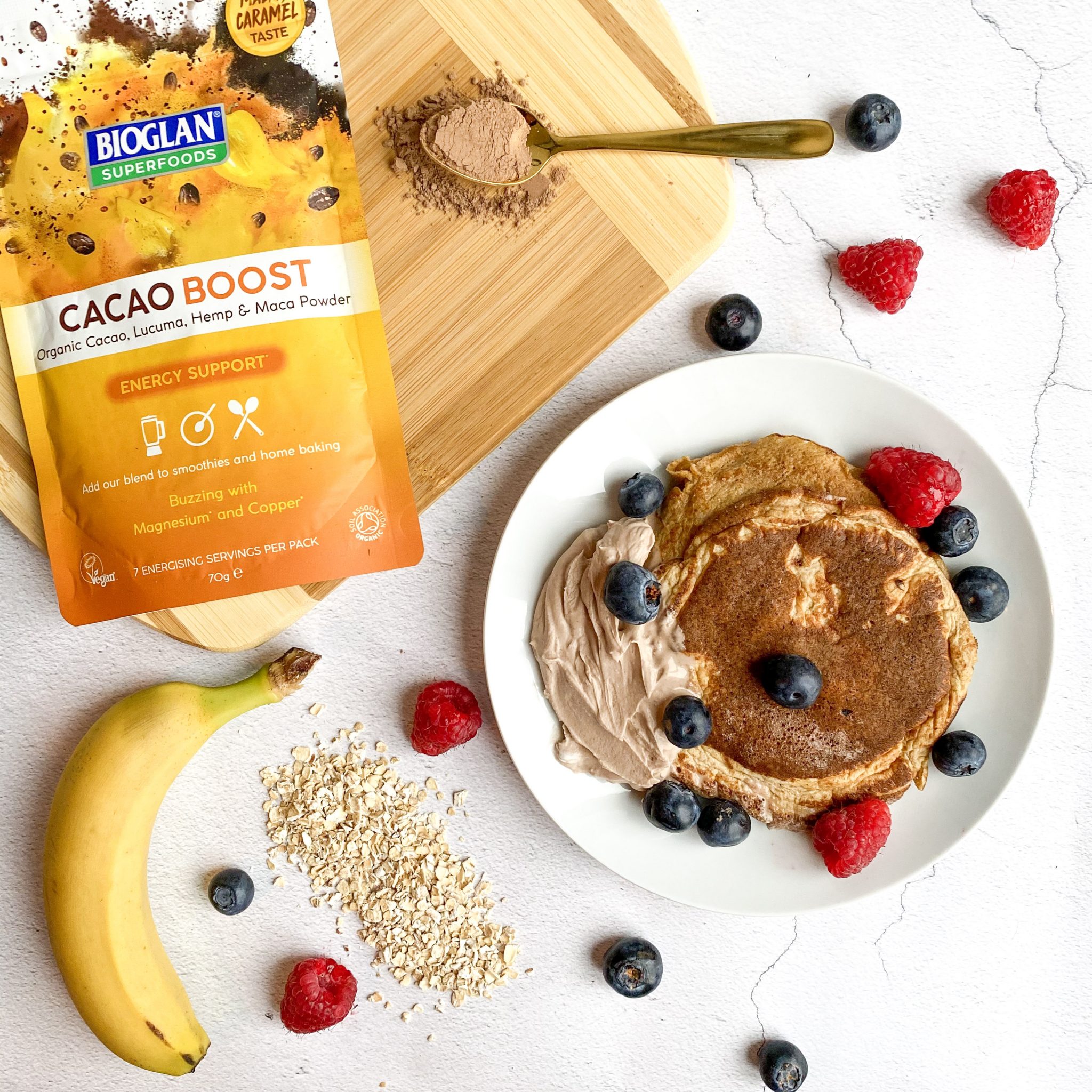 Banana Vanilla Pancakes with Coconut Cacao Cream
with Cacao Boost

1

Fifteen Minutes
These pancakes with Cacao Boost is a recipe developed by nutritionist Amanda Hamilton. She has created some tasty recipes that are quick and easy to make, all with added superfoods to give you an extra health benefit.
Ingredients
Buy ingredients online at your selected retailer
Cacao Cream:
1 can of full-fat coconut milk
1 tbsp Bioglan Superfoods Cacao Boost
Pancakes:
1 banana
2 eggs, beaten
25g oats
1 tsp vanilla extract
½ tsp baking powder
Dash of coconut/almond milk
Method
For Cacao Cream:
1. Put a can of full-fat coconut milk in the fridge for at least an hour
2. Take out the fridge, open and then discard the liquid
3. Beat the cream together with 1 tbsp of Bioglan Superfoods Cacao Boost – a mixer will make this easier.
4. Store in the fridge for up to one week.
For Pancakes
1. In a food processor, add the oats and baking powder and mix together until the oats look like flour.
2. Add the rest of the ingredients and mix together. Add a little bit of milk at the time until you get the right consistency.
3. Heat up a frying pan on medium heat and add a little coconut oil. Cook the pancakes until golden on each side.
4. Serve the pancakes with berries and a dollop of coconut cream. Enjoy!