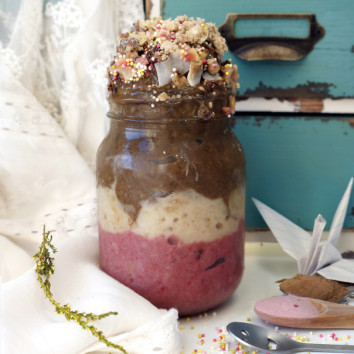 Banana Neapolitan Ice Cream
Recipe by Big City Dreamer

Serves 1-2

10 minutes
Healthy ice cream? It does exist! This delicious treat is perfect on a hot day. Top with your favourite things for a truly indulgent dessert.
Ingredients
Buy ingredients online at your selected retailer
4 bananas
Splash of milk (regular/ almond / soy)
1-2 tsp Bioglan Superfoods Cacao Boost
1-2 tsp Bioglan Superfoods Superberries
Desired toppings
Method
Peel and slice the bananas and place in the freezer for a few hours. Place in a blender (or food processor) along with a splash of milk and blitz until an ice cream consistency is achieved. For the three flavours, separate into three and mix 1-2 tsp Superberries powder into one third, 1-2 tsp Cacao Boost powder into another and leave the remaining as is. (Alternatively, if you just want the one flavour 'nice cream', add the preferred powder in before you blend the bananas). Layer up and top with preferred toppings (cacao nibs, honey, shredded, coconut, sprinkles etc).