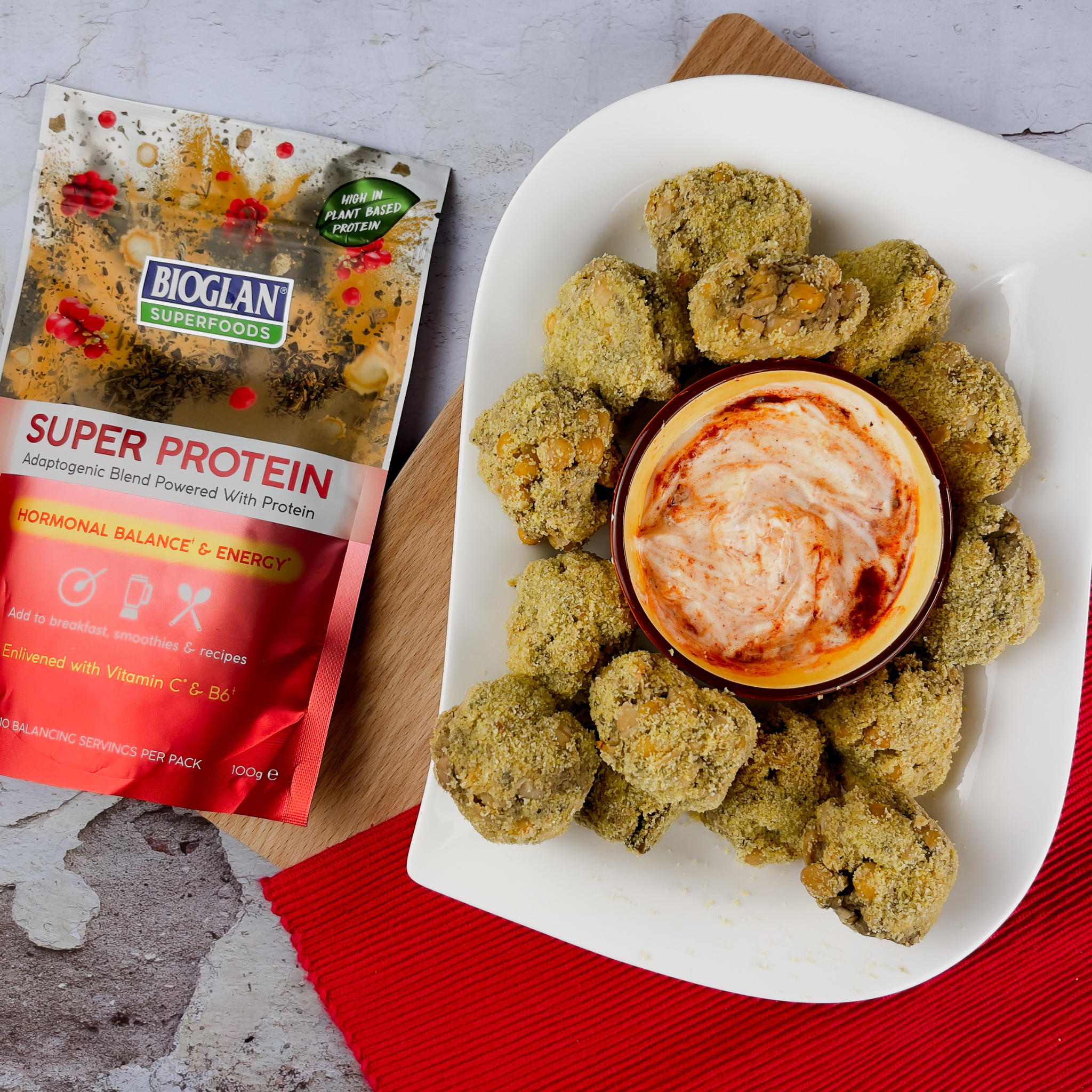 Vegan Aubergine and Chickpea Canapés with Super Protein

5-10

One hour twenty minutes
If you're throwing a party this month try our Vegan Aubergine & Chickpea Canapés with Super Protein. Paired with our harissa and coconut yogurt dip, they're tasty and healthy.
Ingredients
Buy ingredients online at your selected retailer
3 large aubergines, halved, cut side scored
Olive oil spray
2 garlic cloves, peeled
2 tsp coriander
2 tsp cumin seeds
400g can chickpeas, drained
1 tbsp Bioglan Superfoods Super Protein
½ lemon, zested and juiced
3 tbsp polenta
For the dip:
1 tbsp harissa
3 tbsp coconut yogurt
Method
1. Heat oven to 200C/180C fan. Spray the aubergine halves generously with oil, then put them cut-side up in a large roasting tin with the garlic, coriander and cumin seeds. Season, then roast for 40 mins until the aubergine is completely tender. Set aside to cool a little.
2. Scoop the aubergine flesh into a food processor, discard the skins, along with the spices and garlic. Add the chickpeas, Bioglan Superfoods Super Protein, lemon zest and juice and blitz until roughly combined.
3. Shape the mixture into 20 balls and put them on a baking tray lined with baking parchment, then leave to chill in the fridge for at least 30 mins. Swirl the harissa through the yogurt and set aside.
4. Tip the polenta onto a plate, roll the balls in it to coat, then return them to the tray and spray each one with a little oil. Roast for 20 mins until crisp, hot and golden. Serve with the harissa yogurt and enjoy!