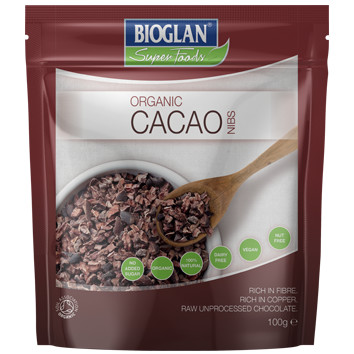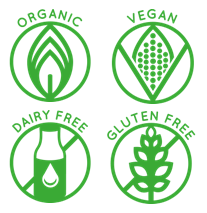 Nutritional Information
| | Per Serving | Per 100g |
| --- | --- | --- |
| Energy | 61 kcal | 607 kcal |
| Fat | 5.42g | 54.2g |
| -of which saturates | 3.34g | 33.4g |
| Carbohydrates | 0.8g | 8.1g |
| -of which sugars | 0.12g | 1.2g |
| Fibre | 1.75g | 17.5g |
| Protein | 1.3g | 12.9g |
| Salt | 0g | 0.01g |
| Copper | 0.22mg | 2.2mg |
Ingredients
100% Organic Cacao Nibs
Benefits
Cacao contains flavonoids which are particularly powerful types of antioxidants that can help to lower the risk of some diseases. Cacao is the most anti-oxidant rich superfood!
Cacao is rich in tryptophan, which is a powerful mood-enhancer. It is crucial in the production of serotonin which diminishes anxiety and has the same impact as love in our brain. Cacao also contains the mood improver, anandamide – known as the bliss molecule, which creates a feeling of euphoria. It also contains theobromine which is a mild natural stimulant that can help us to burn fat and increases our sensation of pleasure by boosting serotonin levels.
Consuming raw cacao nibs helps stimulate the secretion of endorphins that leaves you literally buzzing and also helps improve blood flow to the brain actively increasing energy levels. Cacao is rich in magnesium which is an excellent source of energy that not only optimises our use of oxygen in order to boost energy and burn calories.
Cacao nibs are surprisingly high in dietary fibre and this is why the carbohydrate content is so high- not because of high sugar content.
Our Cacao Nibs are 100% natural, raw and unprocessed; simply chocolate in its rawest and purest form. It takes just three simple steps to produce Bioglan Superfoods Organic Cacao Nibs; the cacao pods are opened, gently sundried and the whole beans are then broken into pieces, that's it!
A natural source of copper, cacao nibs contribute to the normal function of the immune system. Not only do they taste great, they are packed full of healthy goodness.
It's so simple to add our cacao nibs to your breakfasts, baking and snacks for a delicious raw chocolate treat.
Share your thoughts!
Let us know what you think...
Only logged in customers who have purchased this product may leave a review.