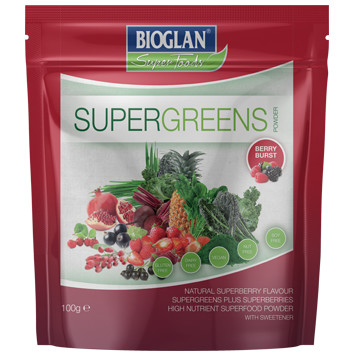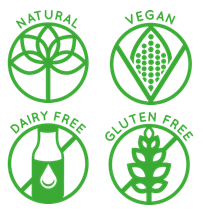 Nutritional Information
| | Per Serving | Per 100g |
| --- | --- | --- |
| Energy | 126.2 kJ | 1262 kJ |
| Fat | 0.37 g | 3.7 g |
| Carbohydrates | 3.48 g | 34.8 g |
| Sugars | 0.42 g | 4.2 g |
| Fibre | 3.72 g | 37.2 g |
| Protein | 2.26 g | 22.6 g |
| Salt | 12.2 mg | 122 mg |
| Vitamin C | 300 mg (357% NRV) | 3000 mg |
Ingredients
Chicory inulin, Pea protein isolate, Sweetener: Steviol glycosides; Goji berry powder (16%), Beetroot powder, Pomegranate powder, Raspberry powder, Açai berry powder (2.5%), Blackberry powder, Strawberry powder, L-ascorbic acid, Acerola juice powder concentrate, Bifidobacterium bifidum (500 million cfu), Lactobacillus acidophilus (1 billion cfu), Natural flavouring, Mangosteen extract, Macqui berry extract (0.1%), Organic Spirulina powder, Organic Chlorella powder, Kale powder, Organic Wheatgrass powder, Organic Barley grass powder, Spinach powder, Elderberry powder, Cranberry extract, Blueberry juice powder, Bromelain.
Benefits
Bioglan Superfoods Supergreens is extremely rich in vitamin C contributes to maintain the normal function of the immune system.
Help towards your 5-a-day
Enjoying Supergreens Berry Burst is a great way to help you on your way to getting 5 portions of fruit and vegetables every day and topping up your nutrient levels.
Bioglan Supergreens Berry Burst is an excellent source of vitamin C which contributes to normal energy yielding metabolism.
With added pre and probiotics, Bioglan Supergreens Berry Burst can help to balance the good bacteria in your gut and improve the digestion of vitamin and minerals.
Bioglan Superfoods Supergreens Berry Burst contains over 20 vital ingredients which provide the full spectrum of A-Z nutrients derived from supergreens, superfoods, fruits, vegetables, herbs and live cultures. Plus it is packed with superberries Goji, Acai, Maqui and more, for an extra antioxidant boost and natural berry flavour! It is the easy way to get all the goodness of 5 portions of fruit and vegetables into your daily diet.
If you struggle to get your 5 portions of fruit and veg every day, Supergreens Berry Burst can help as it contains all the goodness of 5 portions of fruit and veg per serving to help you top up your daily diet. This is based on the ORAC scale and each 10g of Supergreens has the equivalent of 16 servings of broccoli.
This powerful blend has an incredible nourishing effect on the body, specially formulated to support improved health and wellbeing.
Share your thoughts!
Let us know what you think...
Only logged in customers who have purchased this product may leave a review.