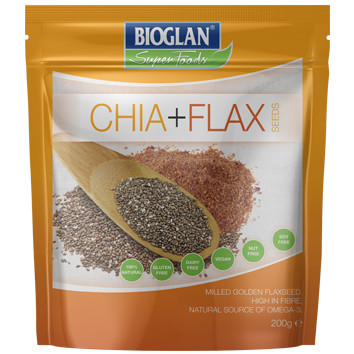 Chia + Flax
Chia and milled golden flax seeds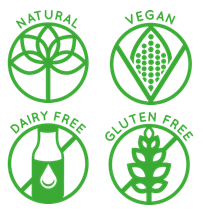 Nutritional Information
| | Per Serving | Per 100g |
| --- | --- | --- |
| Energy | 109 Kcal | 434 Kcal |
| Fat | 7.31g | 29.24g |
| Carbohydrates | 0.64g | 2.55g |
| Sugars | 0.52g | 2.08g |
| Fibre | 9.22g | 36.88g |
| Protein | 5.36g | 21.42g |
| Salt | <0.1g | <0.1g |
Ingredients
Organic Flaxseed (90%) & Chia seed (10%)
Benefits
The majority of the carbohydrate content in Bioglan Chia and Flax is fibre. Flax seeds are rich in soluble fibre that can be digested by your body and help to reduce the amount of cholesterol in your blood. Chia seeds are rich in insoluble fibre which is needed to help other foods move along your digestive system and keep it healthy.
Healthy Hair, Skin and Nails
Bioglan Chia and Flax is rich in the essential fatty acids ALA (Alpha Linoleic Acid) and LA (Linoleic Acid) these fats as well as b-vitamins help reduce dryness and flakiness. Chia and Flax also contains essential amino acids, the building blocks of protein, that help to grow healthy skin ,hair and nails.
Bioglan Chia and Flax is full healthy fats and fibre and will help you feel satisfied longer so you will eat fewer calories overall which may lead to weight loss. ALA fats may also help reduce inflammation. Chia seeds can swell to hold twelve times their weight in water which can help to curb snacking.
Bioglan Chia and Flax is a unique combination of Organic chia seeds and milled golden flax seeds that come together to provide a dual natural source of plant-based Omega 3.
Chia was first used by the Aztecs as early as 3500 B.C. as a food, mixed in water and drunk as a beverage, ground into flour, included in medicines, and pressed for oil.  It was well known, and still is, for its health promoting properties and Chia is the Mayan word for 'strength'. They are one of the most nutritious foods in the world gram for gram and deliver a huge amount of nutrients with very few calories.
Flaxseed was cultivated in Babylon as early as 3000 BC. It is one of the richest plant sources of Omega 3 essential fatty acids and each tablespoon of ground flaxseed contains about 1.8 grams of plant omega 3s. It also contains lignans which are phytonutrients that have many health benefits in the body. Flax contains 75 to 800 times more lignans than other plant foods. It is also a rich source of protein and fibre.
Share your thoughts!
Let us know what you think...
Only logged in customers who have purchased this product may leave a review.