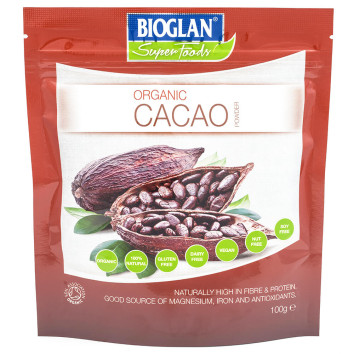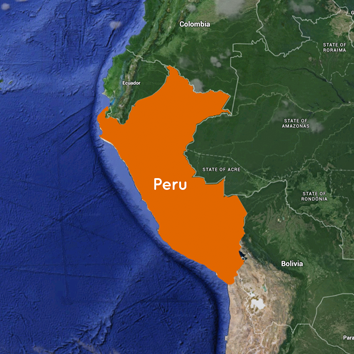 Nutritional Information
| | Per Serving | Per 100g |
| --- | --- | --- |
| Energy | 37.9 KJ | 379 KJ |
| Fat | 1.11 g | 11.1 g |
| Carbohydrates | 3.46 g | 34.6 g |
| Sugars | 0.06 g | 0.6 g |
| Fibre | 1.81 g | 18.1 g |
| Protein | 2.62 g | 26.2 g |
| Salt | <0.1 g | <0.1 g |
Ingredients
Organic Cacao Powder
Benefits
Cacao contains flavonoids which are particularly powerful types of antioxidants that can help to lower the risk of some diseases. Cacao is the most anti-oxidant rich superfood!
Cacao is rich in tryptophan, which is a powerful mood-enhancer. It is crucial in the production of serotonin which diminishes anxiety and has the same impact as love in our brain. Cacao also contains the mood improver, anandamide – known as the bliss molecule, which creates a feeling of euphoria.
Cacao contains theobromine which is a mild natural stimulant that can help us to burn fat and increases our sensation of pleasure by boosting serotonin levels.
Consuming raw cacao powder helps stimulate the secretion of endorphins that leaves you literally buzzing and also helps improve blood flow to the brain actively increasing energy levels. Cacao is rich in magnesium which is an excellent source of energy that not only optimises our use of oxygen in order to boost energy and burn calories.
Cacao powder is surprisingly high in dietary fibre and this is why the carbohydrate content is so high- not because of high sugar content.
Cacao is the purest, most natural form of chocolate available. It comes directly from the cacao pods where the beans are milled at a low temperature to preserve all of the nutrients and the rich, chocolaty flavour. Packed full of antioxidants, magnesium and iron, Bioglan Superfoods Cacao is the perfect alternative to cocoa powder in your smoothies, desserts and baking.
Used as a food, a medicine, and a currency, cacao has been cultivated throughout Mexico, Central America, and South America since 2000 BC. Cacao was so highly valued that the ancient native peoples celebrated it and it was known as the food of the Gods.
In its earliest forms, the Mayans used cocoa to create a ritual beverage. It was then introduced into Europe during the 1500s.
Share your thoughts!
Let us know what you think...
Only logged in customers who have purchased this product may leave a review.