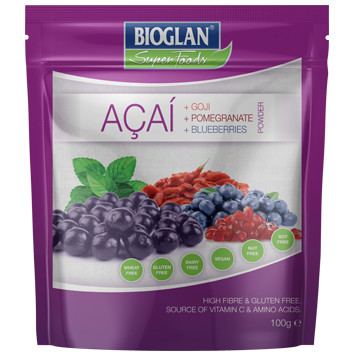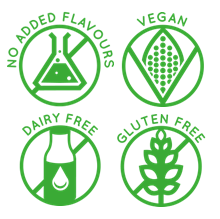 Nutritional Information
| | Per Serving | Per 100g |
| --- | --- | --- |
| Energy | 152 KJ | 1515 KJ |
| Fat | <0.1g | 1.0g |
| Carbohydrates | 7.7g | 77g |
| Sugars | 1.5g | 14.5g |
| Fibre | 1.0g | 9.7g |
| Protein | 0.5g | 5.4g |
| Salt | <0.1g | <0.1g |
Ingredients
Acai berry powder (40%), Goji berry powder (40%), Blueberry powder (9.5%), Pomegranate powder (9.5), Anti-caking agent: Silicon dioxide.
Benefits
Bioglan Acai + Berry powder is rich in vitamin B2 and iron which help to prevent tiredness and fatigue. Calcium and Iron in Bioglan Acai + Berry powder contributes to normal energy-yielding metabolism to help give your energy a boost throughout the day.
A rich source of vitamin A, Bioglan Acai + Berry powder helps to contribute to the normal function of the immune system.
Bioglan Acai + Berry powder is a source of fibre which aids digestion and helps to move other foods along the digestive tract. Also, calcium in acai contributes to the normal function of digestive enzymes.
Prevents Oxidative Stress
This rich supplement contains vitamin C and copper to help protect your cells from oxidative damage and helps contribute to energy metabolism. The combination of superberries offers a very high ORAC value which helps to protect cells.
Bioglan Acai + Berry powder delivers a powerful dose of supercharged berries to revitalize your body. A combination of berries including the superfruits Acai, Goji and Pomegranate plus Blueberry, it delivers vital nutrients, minerals and loads of anthocyanins and polyphenols in their natural form for purer health. This colourful array of berries can be easily incorporated into smoothies, juices and baking.
Acai berries are a fruit that originate in the rainforests of South America and have long been used by indigenous tribes of the region to boost energy and treat ailments. Acai contains both anthocyanins and flavonoids. Anthocyanins are responsible for the red and purple colours in many fruits. Foods that are richest in anthocyanins – such as blueberries, red grapes, red wine and acai,  are very strongly coloured, ranging from deep purple to black and offer the greatest health benefits.
Share your thoughts!
Let us know what you think...
Only logged in customers who have purchased this product may leave a review.